DIGITAL CROSSHAIRS 1000A
This product is designed to help meet the technology and accessibility needs of visually and physically disabled hunters and shooters.  We don't make assumptions about what the #disabled community can do, our goal is to build products to help them do it.
Visually changed hunters
blind hunters
physically challenged with mobility or other handicaps
Adaptive rifle scope attachment for visually or physically challenged.  Digital Crosshairs 1000A is an adaptive rifle scope attachment that enables the user to add a 4.3 inch LCD display to any rifle, pistol, or crossbow scope.  The display mounts to the included picatinny rail adapter for the scope or any rail adapter on the gun.  It can easily be mounted or removed in just minutes so there is no need to have a dedicated rifle for #handicapped hunters.
It comes with a 12 foot extension which enables the user to virtually mount the display anywhere or simply hold it.  These extensions have been tested out to 48 feet.
The system can mounts fit a 1 inch and 30 MM scope tube.  The flexibility of this system makes it ideal for visually impaired, blind, and physically challenged shooters.
Digital Crosshairs 1000A comes complete with all mounts, batteries, and adapters to fit any scope and can handle any level of recoil.  This system was originally designed for night vision and modifications were made to support the adaptive shooting sports.  Add a IR illuminator and you will also have night vision capabilities.
Contact us for any special wiring request you may need.  We can fabricate special wiring at a modest or no cost.
MSRP:  $500  (check website for sales!)
Call 404-590-6513 for more information or to order by phone
======================================================================
Resources for disabled hunters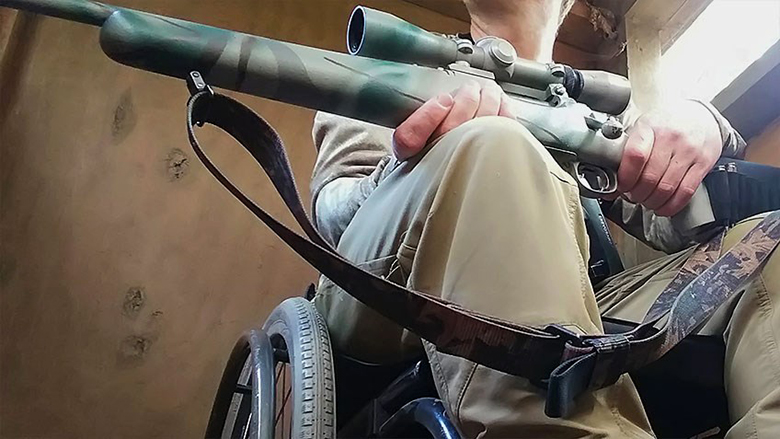 https://adaptiveshooting.nra.org/adaptive-hunting-database/