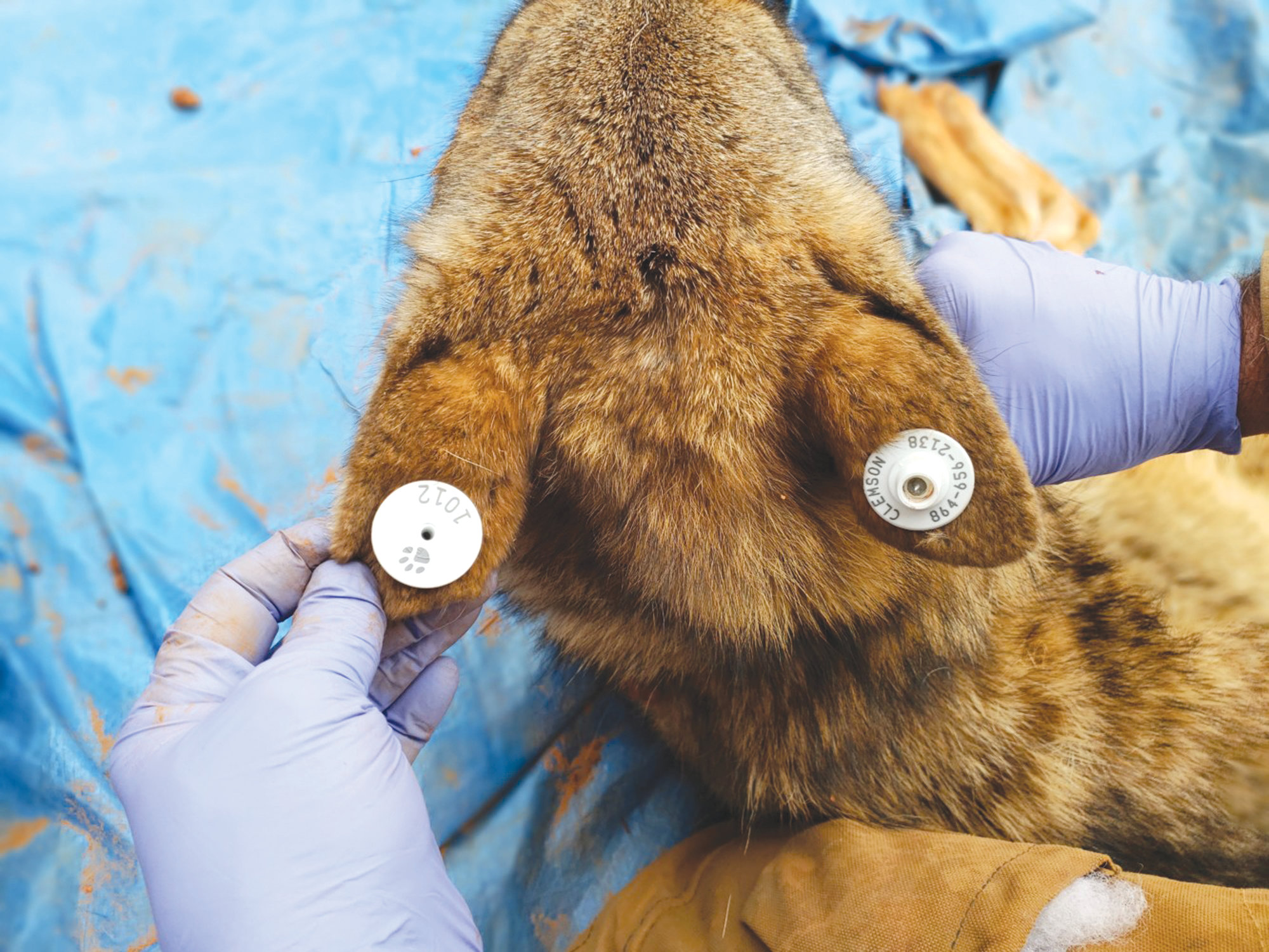 Clemson University researchers began trapping and fitting coyotes with GPS collars in December.

CLEMSON – Coyotes have a nasty reputation among deer hunters in South Carolina, and Clemson University researchers are working to determine just how much of that notoriety they deserve.

Deer are a prominent game species in the state, both economically and culturally, and populations are rapidly falling – down 30 percent since 2002, according to the S.C. Department of Natural Resources – while coyote populations are on the rise.
Source: Clemson researchers work to understand impact of coyotes on our state's deer population | The Sumter Item
Digital Crosshairs 1000 IR night vision clip-on adds night vision and low light capabilities to any day scope.  Mounts in less than one minute, with no re-sighting required.  Ideal for hog and coyote night vision hunters.
www.digitalcrosshairs.net or call 404-590-6513
Digital Crosshairs 1000 Customer Reviews:
"Cool Product
Went hunting last Saturday night. I recently got the DC1000 and mounted it to my Bushmaster AR with a Simmons 44Mag scope. Dropped a pig like a rock at 140yds.! Picture was good and clear. IR light will easily reach 200 yds. I was kinda nervous at that distance since I hadn't shot anything with the DC1000 yet, but it worked like a charm. Just a little weird aiming with the screen as opposed to looking through the scope. Waiting to put it on my 22-250, but going to have to trim the rubber down so bolt handle will clear to reload. If you don't have at least a 1/2″ clearance between bolt handle and scope, prior to mounting camera, you will have difficulty reloading. Would be really good if it came with a hard case and a metal key, instead of a plastic one, to tighten hose clamp on camera. If you're going to move it from one gun to another you may want to purchase a second picatinney mount so it doesn't take as long to switch it over. Otherwise, it's a really cool product that works as advertised. Customer service is awesome. Had some operating issues and a battery charger issue in the beginning, but Henry was extremely helpful and resolved them in a hurry. 4 out of 5 stars due suggested improvements."  Schneider
=====================
"I've had a DC1000 since last year and have killed over 50 hogs with it so far (longest is 180 yds.). I love your product! My son is thinking of buying one. I've been wanting to upgrade to add the DVR. "  Kyle (South Carolina)
======================
"What a great idea – Thanks Henry. Got my first chance to use this at a hunting preserve for a night hog hunt. Was able to select the biggest hog out of 12 in the corn field as if it were day time. Shot a plus 200 pound sow at over 200 yards and dropped it on the spot. Came home and ordered me a DC1000 system for myself and Henry gave me two extra batteries to boot. I have used it on my Savage 30-06 and my Mission crossbow with about 10 minutes to move it and have it working. Awesome customer service Henry." Rufus M.
======================