If you are interested in night vision hunting scopes today is a great time to get one.  The technology is getting better and as you would expect. The really exciting thing is how some low cost digital scopes are just as good as much more expensive, older industry standard Gen 2+ intensifier tube technology.
Picking the right product for your needs and budget can be a challenge. There are enough people "proclaimed experts" out there with opinions on which scopes are the best and what technologies are better than others to keep the average newbie very confused.  If you take anything from this article let it be this, with today's NV technology you do not have to spend thousands of dollars to enjoy night vision hunting.  Much of the new digital technology is just as good as Gen 2 and a lot more affordable.  Don't think the more you pay the better quality you will always get, not true in today's dynamic world of IR illuminators and CMOS chip based night vision technologies. If it is IR night vision, get a good IR illuminator and watch the night light up!
Would you buy a race car to drive to work?  Most hunter are shooting less than 100 yards at night and most of the night vision devices in this article can see farther than that, except maybe the Yukan which is just Gen 1, stay away from anything Gen 1.
What is your typical night hunt going to be like.  Are you shooting 150 yards or less from a stand to a baited feeder?  Are  you shooting 300 yards from the road into a field?  Are you walk and stalk night hunting?  Are  you hunting in rain, snow, or humid conditions?  Are you hunting in wooded conditions or open fields?
As an example of how functional specification don't alway tell the whole story, if your location has a lot of rain and fog during hunting season,  a $10,000 thermal scope that sees 800 yards is your worst choice. Even if dollars are not an issue, thermal can not see through humid conditions or glass for that matter.  If you are hunting in heavily wooded areas or tall brush, all IR night vision scopes will pickup and be blinded by the reflection off leaves and branches in your field of view.
Night vision devices fall into three technology categories; intensifier tubes, thermal, and digital.   Those technologies are either implemented as a stand-a-lone scope or as what is generally called a clip-on.  Clip-ons enable hunters to attach a device to an existing scope to enhance it with night vision.
The key benefits of a clip-on are:
Use multiple guns without re-sighting (hogs with .308, coyote with .223)
Day scope is still functional if night vision device fails
Use quality day scope in daylight, clip-on night vision in evening
Digital Crosshairs clip-on's ocular mount takes advantage of scope's quality optics if you have a good scope
Affordable Night Vision Scope Clip-on
Key Features
Core Technology = Digital Night Vision
Silent operation
Picatinny Rail attachable digital LCD display system for scope.
Auto focus at your scope's fixed magnification (focus all magnifications of variable magnification scopes with adjustable objective)
Mini DVR recorder & Playback on screen (optional)
High Definition 1000 TVL CMOS IR board technology
Minimum Illumination 0 LUX
F1.2 lens for maximum light capture
Total darkness IR system activates at 1 LUX
High power zoomable long range 850nm IR illumination
Color output (not always true colors, Black & White IR night vision output)
Powered by 12 volt polymer lithium-ion rechargeable battery.
Weight of Digital Crosshairs = 22.5 oz
Weight of Illuminator = 7.5 oz
Digital Crosshairs 1000 Night Vision Clip On
AWESOME AWESOME AWESOME!!
5 out of 5 by Joshua C. (1/12/2016 5:49:31 AM)
IP: 71.88.224.196

"The DC-1000 is everything it claims to be and more! I can see clearly at 230 plus yards in the dead of night! This will definitely help you get the animal your hunting when there is no sunlight. I would also recommend you to buy the DVR as well, it's so much fun to re-watch your hunt and a great way to save your memories. The products are A+++++++ but what's even better is the customer service! Theses guys go above and waaaaaaaaaaaay beyond just answering questions and/or making sure your products get to you quickly. The customer service dept. are super knowledgeable and easy to talk to! I will definitely and have been telling my hunting buddies about this product. I am going email Digital Crosshairs some of my hunting video's so they can post video's of my hunt on their website! I love the product and customer service! Thanks again for an affordable night vision product, J.C."
NiteSite Wolf
Key Features
Technology = Digital Night Vision
Infrared Night Vision
Identification range 330 yards
Operational run time up to 7.5 hours
Net weight (excluding battery) 16 ounces
Water resistant
Reviews
Cost – especially with DIY systems becoming increasingly popular – http://www.airriflereviews.co.uk/accessories/optics/night-vision/nitesite-wolf
Affordable Dedicated Night Vision Scopes
If you are looking for a dedicated night vision scope for under $1,000 here are a few to consider.  You will want to read the reviews to see what real users have to say.  No product is perfect so we hope this helps you make the best choice if you don't choose us.
ATN X-Sight-II 5-20x Smart Day/Night w/HD Video Wi-Fi GPS
Key Features
Core Technology = Digital Night Vision
Green night view, black and white night, and color day view
Displays in-view menu, functions
Obsidian Shooting Solution: wind/ballistic data and calculators
Recoil Activated Video (RAV) automatically records your shots
Profile Manager saves your personalized ballistic data
Smart Rangefinder automatically calculates a point of impact
Smart HD Channel allow for easy recording and sharing of videos
Smooth Zoom provides contentious zooming
Bluetooth and Wi-Fi allow sharing and simultaneous viewing on smart devices
Compatible with iOS and Android operating systems
Green night view, black and white night, and color day view
Displays in-view menu, functions
Obsidian Shooting Solution: wind/ballistic data and calculators
Recoil Activated Video (RAV) automatically records your shots
Profile Manager saves your personalized ballistic data
Smart Rangefinder automatically calculates a point of impact
Smart HD Channel allow for easy recording and sharing of videos
Smooth Zoom provides contentious zooming
Reviews
Not great illuminator light – https://www.amazon.com/forum/-/Tx10WW3G6TK3WYU/ref=ask_dp_dpmw_al_hza?asin=B01BYDUZ60
Reviews:
Gear Review: ATN X-Sight Digital Day/Night Optic   http://www.thetruthaboutguns.com/2015/08/jeremy-s/gear-review-atn-x-sight-digital-daynight-optic/
Videos:
Using T67 IR Illuminator really helps        https://www.youtube.com/watch?v=vEw_gNvShfE
Armasight Vampire 3X Night Vision Rifle Scope
Key Features
Technology =  proprietary Ceramic Optical Ruggedized Engine image intensifier tube
CORE technology 60-70 lp/mm
Detachable long-range infrared illuminator included
Illuminated reticle with brightness adjustment
Water and fog resistant design
Mounts to standard weaver rail
Reviews
Rated for use on a .308, but makes the lens drop out – https://www.amazon.com/forum/-/Tx3OJFONPSOL4IJ/ref=ask_dp_dpmw_al_hza?asin=B00IBIO9VE
Yukon Advanced Optics – YK26013WL – Yukon Varmint Hunter 2.5×50 Rifle Scope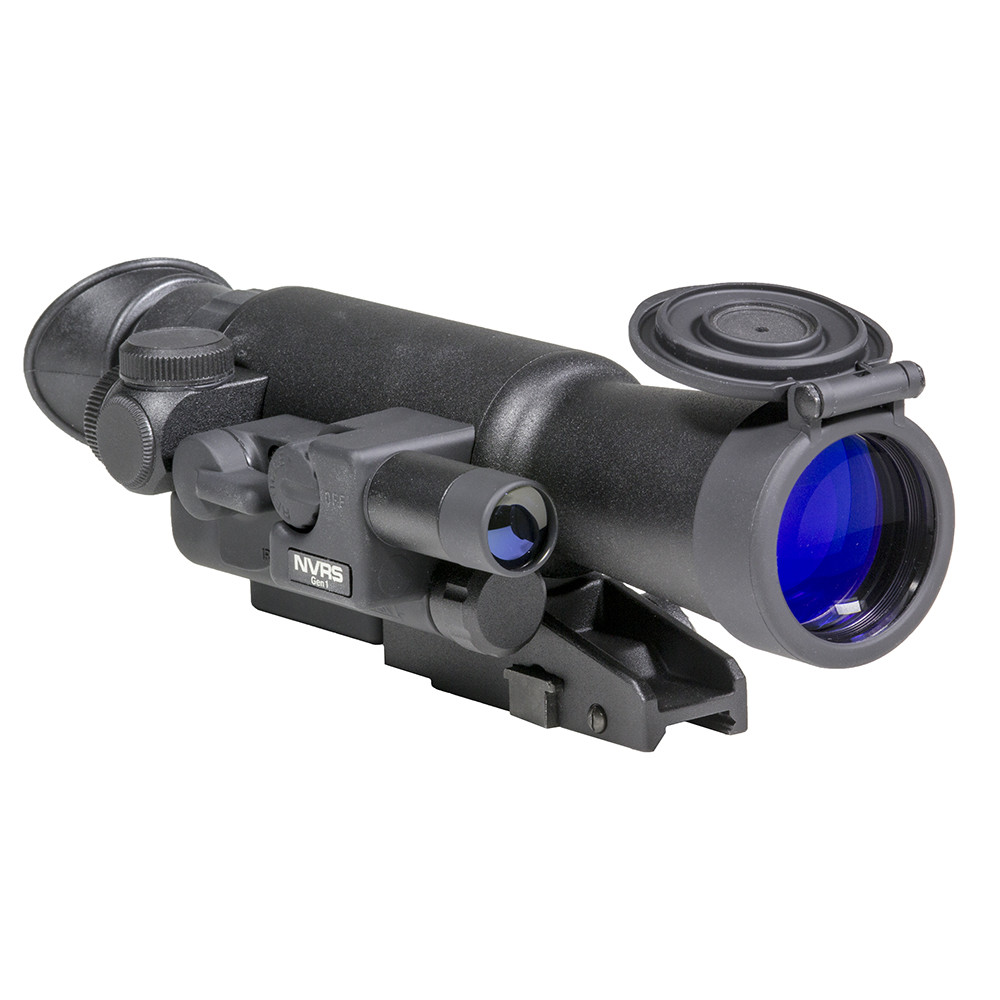 Key Features
Technology = Gen 1 Intensifier tube
Rugged titanium housing
+/- 4 Dioptric correction
Powered by 2 "AA" batteries
30 lp/mm resolution specified
Comfortable, oblique shaped eye cup
Mil-Dot type luminous reticle with on/off switch
Precision internal windage and elevation adjustment
50 Hours of battery life from two "AA" batteries
Reviews
Small reticle – https://www.bhphotovideo.com/c/product/425544-REG/Yukon_Advanced_Optics_YK26013WL_2_5x50_Titanium_Varmint_Hunter.html
Sightmark Photon 6.5x50L Digital Night Vision Riflescope
Key Features
Technology = Digital
Day and night Use
Digital reticle with option of 6 reticle styles
High 6.5x magnification for extended viewing range
High resolution display
Built-in 780nm laser IR illuminator
Reviews
It will "blink" on high recoil rifles (you won't see your shot) – https://www.amazon.com/forum/-/Tx1Y6OY9EFQOK16/ref=ask_dp_dpmw_al_hza?asin=B00JAE0UCA
Extremely poor range, even with aftermarket IR illuminator. (actual operative range is less than 150 yards) – https://www.amazon.com/gp/customer-reviews/R20S1JHMBJ5I7F/ref=cm_cr_dp_d_rvw_ttl?ie=UTF8&ASIN=B00JAE0UCA