Adaptive Hunting equipment
hunting equipment for physically and visually challenged
---
When it comes to the outdoors, no one should be left at home.
Remote Targeting Display
Our remote targeting display enables friends and family members to assist blind or visually challenged hunters target. The screen shows exactly where they are shooting from behind or several feet away.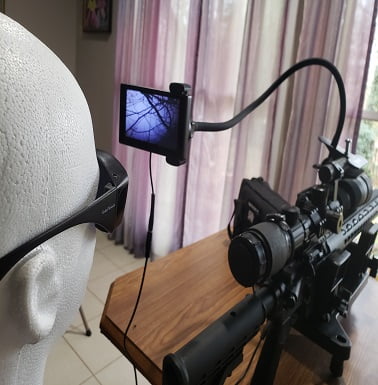 Goose Neck Display Mount
The goose neck targeting display mount lets you position the screen for easy viewing by a chair bound hunter. Typically the gun is mounted to the chair and the goose neck can be bent to an optimal viewing angle for the shooter.
Neck Targeting Display Mount
Hunters with limited Immobility can use this neck display mount to see the crosshairs of the scope without having to position the body in any way. Great solution for paraplegics or anyone with mobility challenges.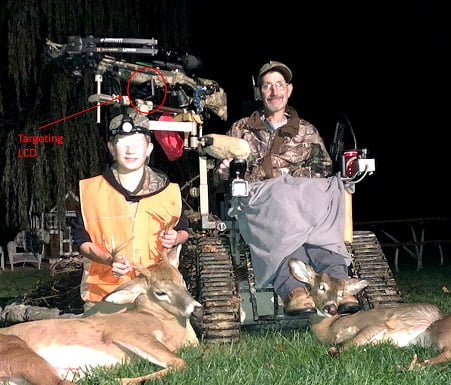 Everyone Can
Digital Crosshairs has been helping physically and visually challenged people enjoy shooting sports and hunters for overy 10 years.
Add Digital Display To Any Rifles Scope
Digital FOV clip-on scope adapter uses an eyepiece attached Digital video cam with a rail mounted LCD display for targeting. Extentions can be added to the display connection so that it can be mounted away from firearm.

Great for blind shooters, visually impaired shooters, and handicapped shooters.

This system looks down the scope and displays the scopes crosshairs on the LCD for targeting. It will focus on the scopes lower magnifications with a standard scope. If the scope has an adjustable objective it will focus on all magnifications.

Digital Crosshairs 1000A does not need special rifle scope ring adapters and will fits up to 50mm eyepiece.
Add and optional IR illuminator and use this system in total darkness.
Features
Adds a rail mounted targeting display to any scope
6+ hour lithium-ion power supply
Weather resistant
Instant power on
Focus by adjusting eye relief
12 foot extension for scope for remote viewing
Adapter fits any size scope up to 50mm eye piece
Kit Includes:
Eyepiece Clip-on Day or Night Vision Camera
3.6″ LCD Targeting Display
Lithium-ion Power Pack
12 foot display extention cable
All Required Mounts