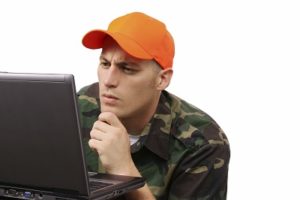 Recently we got some good questions from a prospective customer in South Carolina regarding Digital Crosshairs 1000 night vision clip-on that we felt are worth sharing.
Will it work on my Nikon Buckmaster 2 scope that is 4x12x40 for all the zoom ranges?
Answer:  1
I should work fine with your Buckmaster.   It will work on the low magnification of 4 – 5.  It may work with the higher magnifications but it probably will not.  On some scopes brands it does, some it does not
It will adjust for all magnifications on scopes that have AO (adjustable objective).
When using night vision on your scope, un-like in the day light when you can scan with your eyes and then target in with the scope, the only thing you are going to see is your scope's field of view at night.  The higher the magnification, the narrower your field of view.  You will probably want to use the lowest magnification to get the widest field of view.
We are concerned that the LCD screen will light us our faces and make then visible to deer when we are in our stands. Is this a problem? Can the screen be located below the gun to hide the light from view better? Is the cable long enough to move it down below gun while siting in a tower stand?
Answer : 2
The screen is easily adjustable for brightness and contract, you can dim it.  We also ship a red screen protector with your kit which some hunter like to use to turn the glow from white light to red light.   Also, your face will be about an arm's length from the display when mounted on your gun.
The screen is held in our proprietary mount by a thumb screw that you can loosen to detach the screen.  It has 16" of cable in the wiring/battery pouch designed to allow you to locate the screen away from your gun.  We can also sell you an extension or you can purchase a standard 4 pole extension cable.
How long does the battery last? How long to recharge battery?
Anwer: 3
The battery will last about 6 hours on a full charge.  It takes 5 to 6 hours to charge.  The battery is removable so you can purchase spare batteries from us for just $40.  It is a re-chargeable lithium battery and we provide a charger for it.
The illuminator runs on one 18650 lithium battery.  We provide two with the kit and the charger.  These batteries will run about two hours.   You can purchase them on the internet for $3 to $20 each.  The better ones will run up to 5 hour on a charge I am told by some customers.  You can also add a pressure switch to your illuminator so it is not on all the time.   Another note from experience, if it is below 40 degrees out, keep your batteries in your pocket to stay warm.  I was in a stand one night for hours and it was 28 degrees out with my batteries on the floor.  Guess what happened, they all went dead.
Can we get an extended warranty past 1 year?
I can give you an extended 2 year warranty on the illuminator, LCD,  camera clip-on and wiring harness.  We do not give a warranty on the batteries because people can miss-manage them.  The LCD, like your phone, is not warrantied for water damage or abuse.    A replacement battery is $40 and a replacement screen is $50 for customers.  Our goal is not to make money on repairs, it is to keep you in the woods hunting!
Can we get a discount for buying say 4 or 5 at once?
Answer: 5
Yes.  $550 each
How long does it take to mount the system on a rifle? We are thinking about taking it with us and mounting it in the field as it gets dark.
Answer: 6
Once you attach the picatinny rail adapter to your scope, it takes less than 60 seconds,  really.
What I would do is mount the battery pouch to the scope or stock of your gun ahead of time.  This attaches with Velcro and that sound you may not want to chance deer hearing.
When it gets dark, attach the clip-on to the eye piece and mount the screen and illuminator, then just plug them in.
7.  Can you get extra batteries
Yes, the battery just slips into the power pouch.  You can disconnect it and replace it with a fresh battery at any time.
8.  Can I use this system during the day?
Yes this system can be used day or night.  It switches to night vision automatically and sun light does not bother it at all.  The night vision is black and white.  Day vision with the DC1000 works well however the colors are not realistic.  With our Sony based system you get excelent color during the day and black and white night vision.
See us on Facebook
Learn more at http://www.digitalcrosshairs.net