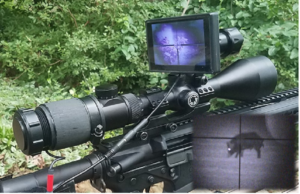 Digital FOV, LLC is proud to introduce Digital Crosshairs 1000R-V2. This is the latest night vision clip-on in the Digital Crosshairs 1000 product line. It now includes drone industry HD video and audio recording and playback technology.
This product captures a night vision hunting experience as a HD motion picture with sound. It captures video from your scope and sound onto a Micro SD Memory Card ( supporting up to 32GB) which can be played back on the attached targeting display or on any desktop or mobile device that can read a memory chip.
·* Video compression format: MJPEG
· *Resolution: VGA (640 * 480) / D1 (720 * 480) / HD (1280 * 720)
· * Record file format: AVI
· * Recording sound: ON/OFF selectable
· * Cycle recording time: 10min/20min/30min
· * Frame rate: 30 Frames
This product mounts on any scope in less than one minute without proprietary adapters. No need to re-zero the scope. The included IR illuminator and targeting display mounts using a standard picatinny rail scope adapter that is included in the kit. Just mount it, turn it on, and go hunt. No programming, aps to download or sighting-in required. Now your best Leupold, Vortex, Nikon, Burris, or Schmidt Bender can be used in total darkness at ranges beyond 200+ yards.
The Digital Crosshairs 1000 night vision clip-on product line has a modular design that allow for the integration of the "best available" night vision camera boards, lenses, IR illuminators, battery technology, and recording devices in the industry. "The philosophy at Digital FOV is to integrate the best technologies in the industry, not try to build them", said Henry Johns, Chief Technology Innovator at Digital FOV, LLC. This design feature also enables Digital Crosshairs 1000s, that are purchased today to be upgraded by the company as the technology improves.
Digital FOV is a leader in the manufacture of affordable yet effective night vision clip-on devices that turn any standard day scope into a digital low light & night vision scope.
https://www.digitalcrosshairs.net
https://www.digitalcrosshairs.com
Media Contacts:
Henry Johns
Digital FOV, LLC
(404) 590-6513
https://www.digitalcrosshairs.net