Night vision hog hunting can be costly but for some of us the thrill is well worth it.  Night vision hunting is quite different than hunting during the day.  For one thing, you don't have to hide, the darkness is your blind.   Think about it, most predators hunt at night for this reason and so do I.  It a real thrill!
But what does night vision hog hunting cost?  In addition to your rifle or crossbow and scope, you will need night vision equipment.  There are a lot of choices when it comes to this.  Thermal scopes, night vision scopes, digital night vision scope and night vision scope clip-ons pretty much cover your rifle optics choices.  Hand held thermal monocular are a great addition if the budget permits.  This lets you easily scan the darkness without having to raise your gun and look through the scope.   This is just the equipment cost and to be fair some hunter on a low budget use a powerful green or red flashlight to find their pray.   For occasional hunters most outfitters offer the option of renting night vision equipped rifles for the nights hunt.
The cost of night vision hunting after you get the equipment is still pretty costly.  See the table below for the cost of my hunt this week at Owen Farm Hunting Preserve in Alapaha, Ga.  This is was a good deal.  Many hunters pay that much just for the outfitter.  You can save some cash by processing your own hogs but for $50 each I rather pay someone.
Alapaha Night Vision Hog Hunt 8/10/21
Hog Outfitter
 $  300.00
Processing 2 Hogs
 $  100.00
Hotel
 $    77.00
Gas
 $    40.00
Total
 $  517.00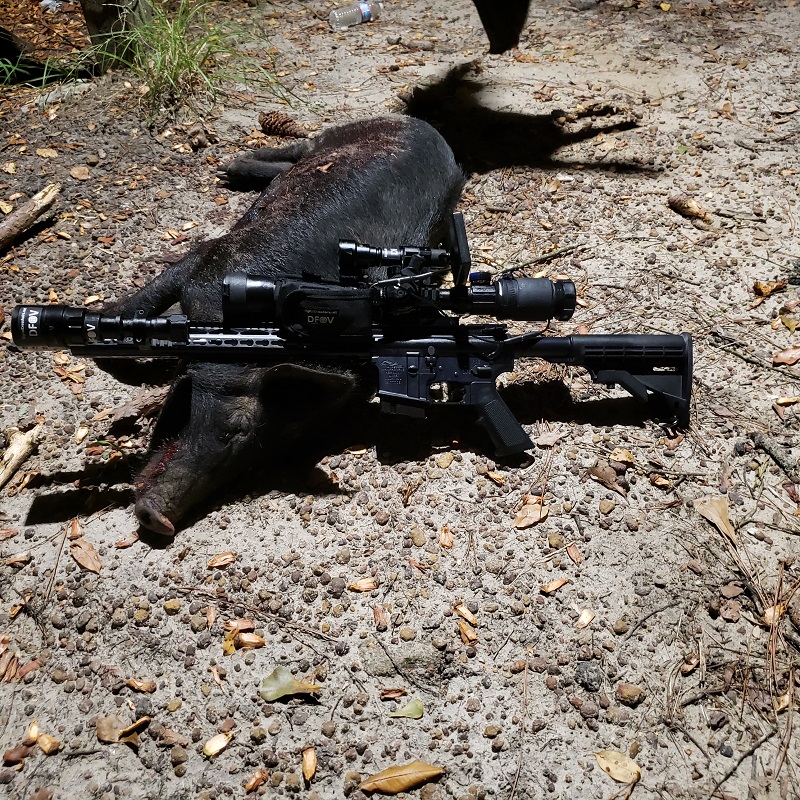 Learn about Digital Crosshairs Night Vision Clip-on products at:
or call 404-590-6513